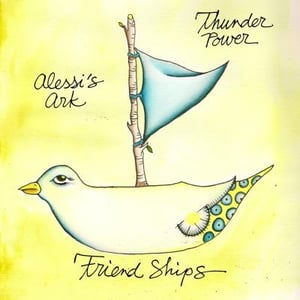 $

7.00
Though separated geographically by thousands of miles of verdant forest, fertile farmlands, turbulent seas, blue skies, billowing clouds, and overcrowded urbanized humanity, kindred spirits Thunder Power and Alessi's Ark came together to release one of 2009's as-yet-undiscovered gems: their split EP Friend Ships. The idea for this divine collaboration sprouted from a most auspicious autumn evening when the artists' paths converged in the lineup of a show in Thunder Power's native Omaha, Nebraska, USA, and the details were cemented with the nurturing walls of the Conor Oberst/Mike Mogis/Saddle Creek musical dynasty's cozy Omaha studio compound.
For Thunder Power, Friend Ships is their second official release, following closely on the heels of their critically-acclaimed debut Love Yourself, which is out now on Slumber Party Records. Friend Ships gives insight into a more delicate, soulful, and wistful side of Thunder Power's many personalities, vividly brought to life by their painstaking orchestration and lyrics that encompass the whole pantheon of emotions: ecstasy and melancholy, orgasmic jubilation and fatalistic resignation, and an infinite number of shades in between. The effervescent pop of Love Yourself is counterbalanced by a certain forlorn introspection in Friend Ships, and each track you explore will provide tantalizingly more understanding of the complex collective psyche of this sometimes-fragile union of six amazing souls.
For London's own Alessi's Ark, aka Alessi Laurent-Marke, Friend Ships is the third of what will be many, many releases in a long and fruitful career that is just now taking flight. Her self-released debut The Bedroom Bound EP was so well-received and generated such a stir in her hometown that venerable British label Virgin Records signed her to release her first full-length. A four-track teaser, The Horse EP, is out now on Virgin, and the rest will hopefully be out sooner rather than later!
The first Thunder Power track, Postscript, is a tender love ballad featuring heart-melting boy-girl harmonies accented by flowing accordion. Sleep, Not Violence, the second Thunder Power track, is a folk-infused lament-turned-rocker colored with slide guitar and organ accents. The collaboration culminates in the third Thunder Power track Blood Water, an epic tale of struggle and loss that exposes the less-glorified side of the American dream -- the tragedy and injustice that can sometimes seem more like a nightmare.
Alessi's first track, Witch, begins, paradoxically, with "I'm not a witch, I just get sad / I made a friend who left in the end," a line which sets the tone for this fragile heart-tugger that features nothing more than Alessi's voice and delicate guitar. "It doesn't get easier to live / It just gets easier to give again" emotes Alessi in a powerful moment of simultaneous forgiveness and resignation. Her second track, Hummingbird, is a fanciful love tale in which the engineer and producer of her two songs, none other than Saddle Creek staple Jake Bellows of Neva Dinova, even gets into the mix with some well-placed guitar accents, and producer Ian Aeillo also chimes in with his famous "fuzzy cabbage" effects.
Track listing:
1. Postscript (Thunder Power)
2. Witch (Alessi's Ark)
3. Sleep, Not Violence (Thunder Power)
4. Hummingbird (Alessi's Ark)
5. Blood Water (Thunder Power)
All CD's come in full color slipcase, enclosed in a hand made, hand silkscreened bag!